I am not a 'club' person, in the sense that I don't belong to a limited group or to a one single place, however if you sail, everywhere in the world, it is recommended to join a yacht (or a sailing) club: it is a safe place to dock your boat and a great starting and arrival point for all boating adventures. I have been in countless unforgettable sailing and yachting clubs, but I have four clubs in particular that feel like home to me:
The first I want to mention is Circolo Vela Gargnano at the Garda Lake: It was founded by my uncle, Franco Ragusini along with his brother Mario and a couple of friends in 1953. It is a sort of my family heritage. I am very proud to be a member of it.
Few years prior, my uncle with a group of friends decided to navigate no stop around the Garda Lake, starting from the dock in front of his house at Gargnano's harbor, sailing with the Pelèr (the north morning wind), all the way south to Desenzano, then navigating north all the way to Riva and Torbole with the south wind, the Ora, and back to the start to Gargnano's harbor. A hundred miles! The news of this sailing adventure got spread to other sailors from neighbouring villages. The following years, more and more boats joined them in what later became one of the most famous race in Europe: the Centomiglia.
That's how Centomiglia started…according to my uncle's story.
The race needed an organised structure in order to properly host sailors, boats, and the race itself with boas, juries and much more, so my uncle Franco along with his friends founded the sailing club, with the 'club house' at his house main floor the main floor.
Since then, every second Sunday of September, for 72 years Centomiglia is taking place becoming the oldest and one of the most famous active regatta in Europe.
Centomiglia was very popular in the 80's and 90's, with more than 300 hundreds boats coming each year from all over Europe.
For many years, the start of the race at 7 am, was a family tradition that I would never miss, watching it from the window of my uncle's living room. When I was on my teens, as many other girls and boys of my town, I would race the Centomiglia on big boats that needed extra weight.
My son Thomas is racing for this club. The CVG has one of the top youth sailing program of the country for both competitive racing team and sailing school and summer camps.
Sailing wise it is one of the most active sailing club in Italy; hosting the most valuable international races and events.
I love that club and that whole area as well: for me, the most spectacular corner of the Garda lake.
I m ecstatic everywhere I go, the shore with 17th century lemon gardens and houses, historic villas, old olive groves and the also the inland with hidden gems and an amazing food and wine tradition. It is just outside of my step door, only 45 minutes driving from my current house and there's so much to do, to see and discover before and after sailing. It is worth exploring it and I m glad I got the chance to promote it through this blog.
The Saint Francis Yacht Club My yachting club while I was living in San Francisco, my after work jogging routine every evening for many, many years. The first sailing club of my sons, Jordi and Thomas.  The place where I decided that 'living two years on a sailing boat, navigating around the world' had to be on top of my bucket list.
The original clubhouse was designed by famed architect Willis Polk.
It is located in the marina district, at Crissy Field, in the shadow of the Golden Gate. The original clubhouse was designed by famed architect Willis Polk and built on land created for the 1915 Panama Pacific International Exposition, which marked the opening of the Panama Canal. Since then the clubhouse has been rebuilt many times following a series of devastating earthquakes and fires in San Francisco. The club was home of America's one, America Young and the famous Star and Stripes which brought the Cup back to the US with Dennis Conner.
It is considered one of the most prestigious of the world, but the vibe is not pretentious at all, it's friendly and sportif. At the wood-paneled clubhouse it is usual to meet members like Tom Blackaller, Paul Cayard, John Kostecki, Dennis Conner or Larry Ellison chillin, eating the 'Commodore Heineken's spicy fish burger'…the specialty of the menu. You got to try it!
Nojo Harbour. I was sailing with my friends from San Francisco to Oregon. We had planned to spend the night somewhere in Mendocino and we tied the line in Nojo, which is approximately 180 miles via boat from the city. Entering the harbor had been a breathtaking experience for me and I am sure that would excite any sailor: we were sailing accompanying migrating whales and in view of miles of raw unspoiled landscape of the coast, rocky cove and giant redwood trees. This yachting club is in heaven! I recommend it to any sailor who are exploring the Northern California coast.
It is a one of a kind yachting club, the clubhouse looks like a historic five-star luxury fishing shack. It was built in the 1800's, crafted by hand from old grown. There's very little existing sailing culture: the harbor has been a longstanding, sport fishing hub, its activity currently is approximately 60 percent sport fishing.
Keep in mind that, the first Saturday in July, every year, in Nojo Harbor is held the World's Largest Salmon BBQ, whether you are sailing or not, You don't want to miss it!
Nojo Harbor is home of the Nojo Center of Marine Science: an innovative research and educational center with the mission to advance ocean conservation through education, exploration and experience. No University is supporting this center, everything is managed by volunteers with plenty of skills, energy and passion for the ocean. The center is supporting a lot of interesting projects from beach clean-up, blue whale projects, science talks, marine technology development programs and even an orca project.
Adults are welcome to sign up to volunteer and kids can get involved as well attending summer camps.
I was there volunteering when a 73-ft long female blue whale got killed from a ship's propeller off the Mendocino coast. More than 300 volunteers from all over Northern California came together to clean the body of this magnificent mammals. It was a very moving experience for me.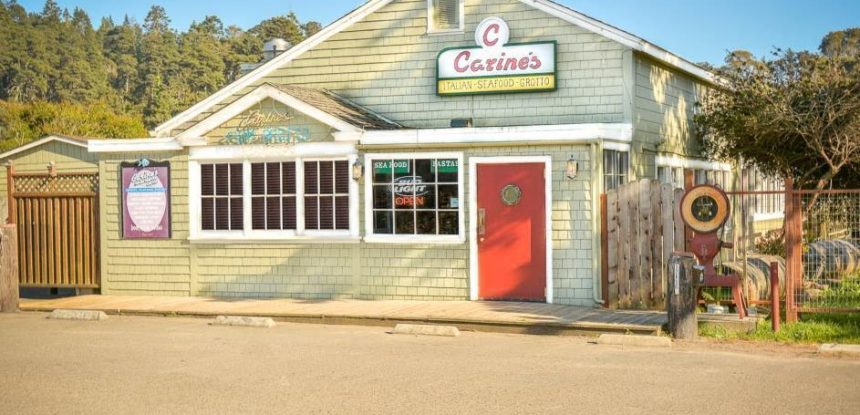 Last but not least ANS (Associazione Nautica Sebina) on Iseo Lake.
This is the club where I met Aldo Rinaldi: my husband and father of my youngest daughter Alice.
Although Iseo Lake is just 10 minutes drive from where I grew up, I just used to go to Garda and just through Aldo I discovered this little world, in a corner of the lake, in front of Monteisola and Isola San Paolo. This little lake and little club nurtured so many amazing sailors over the past 50 years that is hard to believe. Giorgio Zuccoli, the little fish from the lake who won the ocean. Angelo Glisoni, Olympic Champion as a sailor before and as a coach later on, Daniele and Giovanni Cassinari, two brothers with countless world medals, and still considered nowadays the best sailors in the world. Pietro Zucchetti, two times Olympic Athlete and now Olympic coach, Margherita Porro one of our top Italian National team promises. Each one of them deserves a special report dedicated in this blog.
These amazing great sailors, along with Aldo (who is also an amazing great sailor himself) grew up at this sailing club, hanging out and sailing everyday together. Now, after more than 40 years they are still hanging out together at the same place. No appointment required: just go there and you'll meet them. It is heartwarming.
Six years ago, I've got a 'gozzo': a wood Ligurian fishing boat. I keep it docked at ANS. During weekdays, spring, summer and fall, late afternoon, with my husband and kids, often with friends, we just grab a pizza and a bottle of wine to enjoy in the middle of the lake, on our little fishing boat, with soft music, sunset light and night summer sky. A zen experience.  That's how I love Iseo Lake!
What's your sailing yacht club?